"It is important for all of us
to see ourselves in books."
-Dr. Jerrie Cobb Scott, founder of the African American Read-In
Getting to know the Springfield AARI
The Springfield African American Read-In is a collaborative partnership advancing the literacy initiative. The Springfield AARI mentors readers, promotes multicultural authors and hosts literary events throughout the year. It has helped build a community of life-long readers for more than a decade.
AARI community partners
The AARIC steering committee plans and coordinates events throughout the year. Representatives from each organization and a member from the community comprise the AARIC.
AARIC leadership
Grace Jackson-Brown, Chairperson, Missouri State University Libraries
Cheryl Clay, NAACP Springfield Chapter
Nora England, Springfield Public Schools
Charlotte Hardin, Community-at-large
Gwendolyn Marshall, Springfield Public Schools
Eva Pelkey, Springfield-Greene County Library District
Rosalyn Thomas, Drury University
Promoting diversity through literature
Each year, UNITE, Inc., hosts the Multicultural Festival on Martin Luther King Jr. Day. During the festival, the Springfield AARI shares free, multiculturally themed books for children and young-adult readers. Hundreds of books – and works by multicultural authors – are being read in the community thanks to the generosity and support of Ozarks Literary Council.
The Springfield AARI hosts visits by award-winning authors. Past writers include:
Patricia McKissack, decorated children's book author.
Gladys Caines Coggeswell, famed storyteller.
Shane Evans, author and illustrator.
Congressman John Lewis, author of best-selling graphic novel "March."
Creative works by local African American writers are also featured. Recent authors include:
Jon Herbert, Ozarks Technical Community College instructor, sharing his play "Beloved Exile."
Christine Peoples, community organizer, featuring her play "Hair Story."
Taylor Vinson, Missouri State University student, showcasing her book of poetry, "Letters to God."
Keisha McMillen, Drury University student, directing a performance of her play, "Why I Kneel."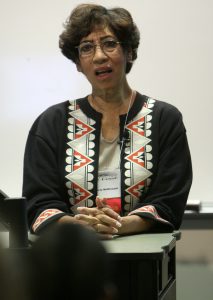 Inspiring young writers
The Springfield AARI sponsors writing workshops. In 2009, Patricia McKissack facilitated the inaugural youth writing workshop. In 2018, Taylor Vinson guided the first poetry writing workshop and competition.
Taking action for literacy
Your talents and skills are needed to ensure the mission of the AARI continues. Whether you have technical skills, artistic talents or are passionate about improving literacy in the Springfield community, contact us to volunteer.