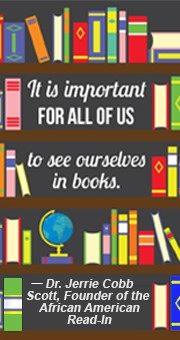 Thursday, April 25, 2019, 7:30 – 9:00 p.m. in the Missouri State University Meyer Library, Auditorium 101
A panel will discuss the topic "Mirrors, Windows, and Sliding Glass Doors–African American Children's Literature Yesterday, Today and Tomorrow." Panelists include Community Activist/Author/University Professor Sabrina Brinson; Minister/Community Organizer Christine Peoples; and Youth Services Librarian Phyllis Davis. They will discuss background knowledge, along with their experiences sharing African American literature with children and youth. Audience members are welcome to participate in a general Q&A.
This event is part of the Tenth Anniversary Celebration of the Springfield African American Read-In.